Commercial Kitchen Equipment In Bangalore
5
(3
Reviews)
Over last few years, there is a huge change in every aspect of the human life from technology to fashion. It has become completely significant for you to use the available resources with changing technology and time. Our company, Comfort kitchen equipment is designed for the industrial users to have an inexpensive cooking solution. Our Kitchen equipments Bangalore supplies commercial kitchen equipments for resorts, clubhouses, industries, hotels, educational institutions, hospitals and catering units.
Our Kitchen equipments Bangalore service providers are specialized in planning, manufacturing and designing of the supreme quality commercial kitchen equipments. Our company incorporates the craftsmanship and modern technology with custom made and the latest design in order to improve the resilience and quality of the equipments. Our kitchen products are high end modules; custom crafted which includes flexible and unique features in order to meet the particular necessity of the customers. We have equipped with the modern machineries for tailor-made and standard equipments.
Our commercial kitchen equipment company has the potential and competent advantage in combining high quality production and supply. Our kitchen equipment suppliers are committed to provide the high quality product with modern technology and competitive price. We are dedicated to supply all kinds of kitchen equipment for you.
Our commercial kitchen equipments Bangalore provides the long lasting and most reliable kitchen equipment for the customers. We also offer various kinds of kitchen equipments like.
Kitchens Equipment Manufacturers in Bangalore
High-grade kitchen equipment are the prerequisite of the industries dealing with the food business. Hotels and restaurants in Bangalore are in constant search of kitchen equipment that can cater to their needs. It helps them prepare and deliver quality food to their consumers.
Sri Sakthi Innovations encompasses a wide range of standard and superior quality Kitchen Equipment in Bangalore. A plethora of tools and utensils that include commercial kitchen equipment, we make sure that all the demands of the commercial food service industry, food handling as well as trading industry are met by us.
We furnish the requirements of catering units, hotels, restaurants, educational institutes, resorts, clubhouses and every big and small food industry. Our commercial expertise and technical know-how made us one of the best in the industry that supply best commercial kitchen equipment in Bangalore.
We are also the commercial kitchen equipment manufacturers and suppliers in Bangalore that design every product with utmost precision. Our manufacturing and designing unit takes special care in meeting the requirements of the food industry. We incorporate craftsmanship with the perfect concoction of advanced technologies in our equipment. Other than this, we are also the most reliable canteen kitchen equipment manufacturers in Bangalore that deliver only genuine and standard products.
If you are seeking Kitchen equipment sales in Bangalore, Srisakthi Innovations is your ultimate destination. Our every product is not only uniquely featured but also comes in cost-effective rates making them easily affordable by all. We have cooking equipment, steam cooking equipment, refrigeration equipment, serving equipment, exhaust equipment, preparation equipment and washing equipment.
Your search for most reliable, high-quality, trusted, long-lasting and genuine kitchen equipment in Bangalore ends at Sri Sakthi Innovations.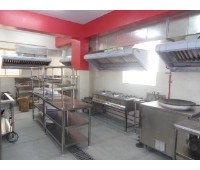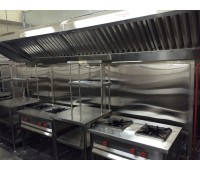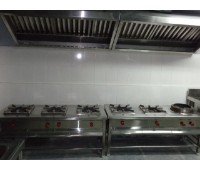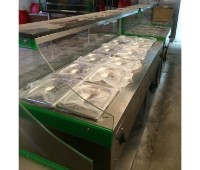 Commercial Kitchen Equipment Reviews
Customer Reviews and Ratings for Commercial Kitchen Equipment
mansi kukreti
commercial kitchen equipments
product is good
shekar sarma
commercial kitchen equipments
strong product and material also nice
nikhil kumar
commercial kitchen equipments
good product and nice to wathing the materia